The Carl Nielsen Quintet
. . .
We are five high-spirited guys who love to play music, and we are especially happy to perform together. Each of us perform with different symphony orchestras in Denmark and Sweden, but we spend quite a bit of our precious free time performing together. This has given us a wealth of wonderful experiences from various Danish and foreign music festivals and music associations. In 2014, we placed second in the Danish Radio Chamber Music Competition, and in 2015 we won first prize, and the special prize for the performance of the Carl Nielsen Woodwind Quintet, in The Carl Nielsen International Chamber Music Competition. Being five enthusiastic guys, our performances are exuberant, and people seem to like it (and we often get praise for it). We look forward to seeing you at one of our concerts so we can share the experience with you.
Booking
Feel free to contact us for booking info:
Kenny Staškus Larsen
phone: (+45) 31 71 32 12
e-mail: kennyslarsen@gmail.com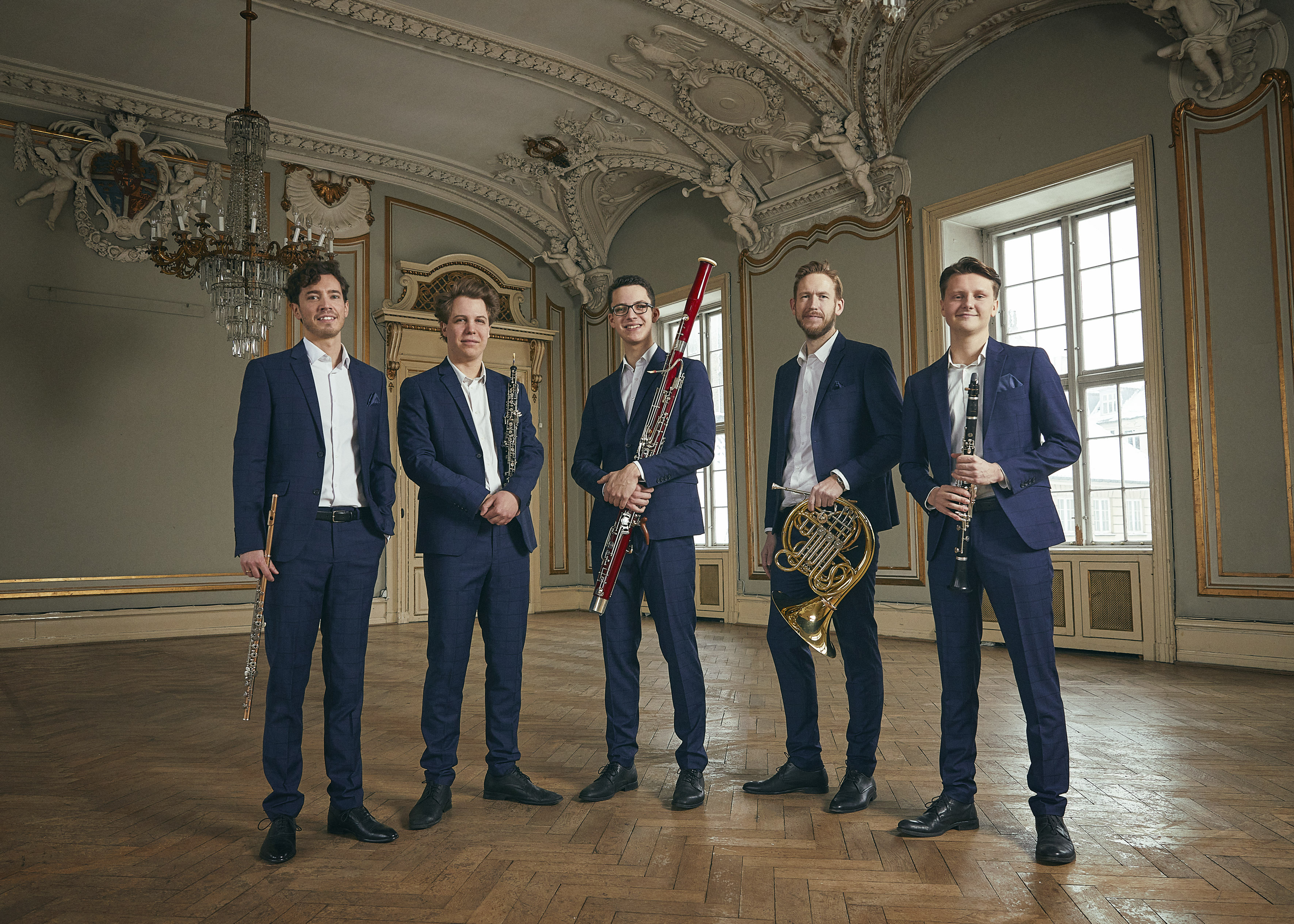 Musicians
Kenny Staškus Larsen (flute) began his musical studies with five years in the Tivoli Boys Guard, his final year as conductor. He won the Gold Medal in the Berlingske Classical Music Competition in 2005. In 2007 he won first prize at the Øresund Soloist Competition and that same year third prize in the "Spil for Livet" P2 competition. He began studying at the Royal Danish Academy of Music in 2007 with Toke Lund Christiansen, earning his bachelor's degree three years later in 2010. That same year he won a special award at the Carl Nielsen International Flute Competition in Odense. Kenny continued his studies at the Manhattan School of Music with Linda Chesis the following year, where his wind quintet from the Manhattan School of Music won the NYFC competition and Fuchs Chamber Music competition in Connecticut. Kenny spent 2011-2012 in Geneva studying under Jacques Zoon. In the summer of 2013 he won the position of solo flutist with the Malmö Opera orchestra.
Carl Julius Lefebvre Hansen (oboe) began playing the oboe at age 9 in the Copenhagen Tivoli Boys Guard, and in 2011 he was awarded gold medal at the newspaper Berlingske's competition for young classical musicians. He graduated from Aurehøj Gymnasium in 2014 and was subsequently admitted to the Royal Danish Academy of Music in the oboe class of prof. Max Artved and principal oboist Joakim Dam Thomsen.
2016-2020 Carl Julius pursued his studies in Paris under the guidance of Jacques Tys, professor at the Paris Conservatoire.
In 2019, Carl Julius auditioned for and was admitted to two of the world's leading orchestras for young musicians: the Verbier Festival Orchestra in Switzerland and the Gustav Mahler Youth Orchestra.
Carl Julius has participated in masterclasses with Thomas Indermühle and Francois Leleux.
Moreover, he has played in the Staatskapelle Dresden and has been engaged by The Royal Danish Orchestra, The Royal Life Guard, The Danish Chamber Orchestra and Esbjerg Ensemble.
He is the recipient of numerous grants and scholarships.
Christian Vinther (horn) began playing the horn at the age of eight, when he began his training in the Tivoli
Boys Guard under Helge Nielsen. Christian attended the music conservatory preparation training
(MGK) in Ishøj, after which he was accepted at the Royal Danish Academy of Music, where he
studied under Ola Nilsson, the solo hornist in the Royal Danish Academy of Music. Since 2004 he has visited Chicago numerous times to receive training from Gale Williams, former solo hornist in the Chicago Symphony Orchestra, and Rex Martin, a professor at Northwestern University. Christian has performed under contract as "dybehornist" from 2004 to 2007 with the Danish Radio Symphony
Orchestra, and in the Teatro Municipal in Santiago, Chile, from 2007 to 2008. In the spring of 2008
Christian won a position with the Copenhagen Philharmonic as third horn.